My name is Paolo Sperduti, stage name "Otto il Bassotto".
I am an entertainer, a Street Performer, an Italian Saltimbanco.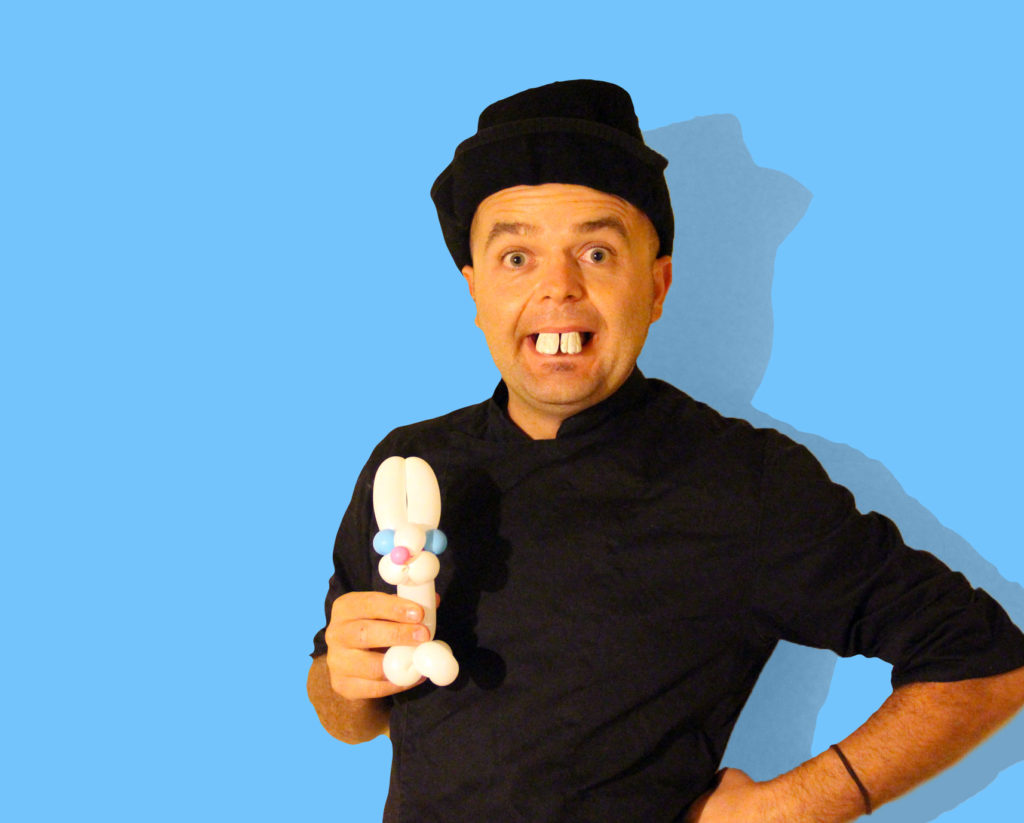 I come from a small village in southern Italy, known (but not really a lot…) as the Land of Balloons.
There, among hills and vineyards, the "Rocca" Family since 1902 produces balloons on the most varied forms, colors and dimensions, using just pure liquid latex, just as it had been gathered from the trees.
In my land, hundreds of families work in balloon production or with Balloon Art techniques… me too!
I started In 2002, for fun and to find a way to pay my University studies.
Ballons twisting and decorating elements (also very big sets!) were my favourites.
I also experienced balloons in comedy magic, improvisation and clownerie.
Busking with balloon-art was very exciting and i was projecting a real Balloon Show.
In 2010 I created "Palloncinerie", a performance that was a mix of clown acts, magic tricks and stand up comedy. I was so exited!
I needed to try and try again so I started to travel all around Italy and than around the Word.
Cile was my first country. What a great experience! Cile's audience gave me an extreme feedback. They was exilarated, I was really surprised and "Palloncinerie" was greatly appreciated also from the directors. 
During this trip, spontaneously (I did not speak Spanish…) "Palloncinerie" turn out in a mute show.
It meant international possibilities! Wow
In 2015 a big wish to renew convinced me to work on the Show again, so I restyled "Palloncinerie" into "Rubber Head" with the fantastic Director "Domenico Lannutti".
Until today (20 October 2021) I presented my show officially in Street Art Festivals, Theater Festivals and other entertainment events in 34 countries:
Argentine, Austria, Belgium, Bolivia, Chile, China, Colombia, Croatia, Czech Republic, Egypt, Emirates, Estonia, Finland, France, Germany, Holland, Italy, Kuwait, Latvia, Luxembourg, Montenegro, Oman, Russian Federation, San Marino, Scotland, Serbia, Singapore, Slovenia, South Korea, Sweden, Switzerland, Thailand, Turkey, United Kingdom.
It won 8 International Awards:
"Jury Award" in Koblenz GauklerFestung 2019
"Jury Award" in Dottingen WinzerFest 2019
"Pave' d'Or" in 25th "Festival des Artistes de Rue" in Vevey (Ch), 2017 (First award in Special Edition: the winners of last 25 years)
"Jury Preis" in "Hein Mück Straßenkunst Festival" in Bremerhaven (De), 2016
"Joint Winner of Audience vote" at "Hat Fair" festival di Winchester (UK), 2015
"Public Award" at "Festival des Artistes de Rue" in Vevey (Ch), 2012
"Glops Award" at "Festival des Artistes de Rue" in Vevey (Ch), 2012
"First Award" in the Street Art Competition "Carichi in Strada" in Padova, 2012.